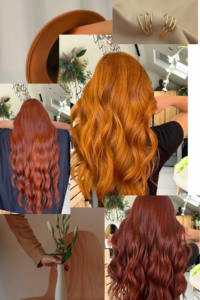 Last year, copper hair took the world by storm, becoming a viral sensation on TikTok. Throughout the year, we witnessed various shades of copper, from "lived-in copper" and "bright copper" to "plum copper" and "fiery copper." This autumn and winter, "cowboy copper," also known as "cowgirl copper," is stealing the spotlight. The hashtag #cowboycopper has amassed a whopping 104 million views on TikTok.
We're here to guide you on how to discuss this trending hair color with your stylist and keep it looking fabulous all season long.
WHAT IS COWBOY COPPER AND HOW TO ACHIEVE IT?
"Cowboy copper" is a warm and inviting copper tone that blends deep copper and red hues with rich brunette undertones, creating the perfect autumnal and wearable copper shade.
To achieve this look, we recommend bringing reference pictures to your stylist. As our starting points vary, each client will require a unique color formula to achieve a similar result. This is why reference images or mood boards are essential for clear communication.
It's important to remember that color trends aren't one-size-fits-all. While it's great to have a general idea when booking your salon appointment, it's best to be open-minded in case your hairdresser suggests a variation of the desired tone.
Different skin tones play a role in how hair colors appear, so it's crucial to consider your complexion. Cowboy copper looks stunning on deeper skin tones, while olive skin tones may prefer a slightly golden caramel hue, and cooler skin tones can benefit from a touch more red.
HOW TO MAINTAIN YOUR COWBOY COPPER HAIR COLOR
Copper shades, including cowboy copper, can be high-maintenance and tend to fade faster than darker colors like rich brunettes or jet blacks, especially when exposed to UV rays during the summer months. To maintain the vibrancy of your copper hair, you'll need toning every six to eight weeks, depending on the intensity of the copper color and your previous hair shade. Keep this in mind when switching up your color.
For optimal care between salon visits and to preserve your copper hair's brilliance, we recommend using our HYDRATE Moisture Mask or Nourishing Hair Strengthening Leave-In. These products will help keep your cowboy copper hair looking gorgeous and healthy.